Vision Screening Programs Can't Substitute For A Comprehensive Eye Exam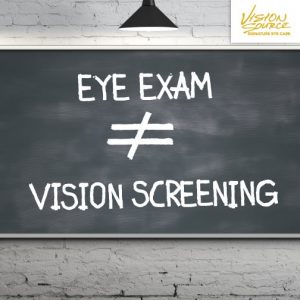 It's the time of year when kids (and parents) are gearing up for back to school.  Your child may receive a vision screening at his/her school to help identify if they have any vision problems.
Many times vision screenings miss more than they find and may actually inhibit the early diagnosis of vision problems.  A vision screening can't be relied on to provide the same results as a comprehensive eye exam performed by a licensed optometrist or ophthalmologist.
The American Optometric Association recommends children age 6 to 18 have a comprehensive eye exam at a minimum of every two years, and in some cases, every year, or as recommended.
When you schedule your child's back to school eye exam at Vision Source Mustang, you can rest assured that your child is receiving a full, comprehensive exam using state of the art equipment with our licensed optometrist, Dr. Jason T. Dobson.